Reading time ( words)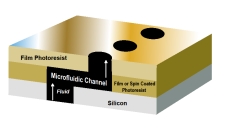 Engineered Material Systems, Inc., a leading global supplier of negative photo resist materials for MEMS and IC cooling applications, is pleased to introduce the DF-3005 Dry Film Negative Photo Resist for use in micro-electromechanical systems (MEMS) and wafer level packaging applications (TSV sealing). This material formulation has been optimized for hot roll lamination and processing on MEMS and IC wafers.
DF-3005 is available in other thickness formats from 5-50 µm, ±5 percent. The cured chemistry can withstand harsh environments including resistance to extreme moisture conditions and corrosive chemicals. The DF-3005 film is tougher (less brittle) than most negative photo resists on the market with a glass transition temperature of 158°C (By DMA Tan Delta) and a moderate modulus of 3.5 GPa at 25°C. It is hydrophobic in nature providing for chemical and moisture resistance. DF-3005 is compatible with and can be used in contact with the EMS line of spin coatable photoresists.
DF-3005 is the latest addition to Engineered Materials Systems' full line of film and liquid negative photo resists formulated for making microfluidic channels on MEMS devices and integrated circuits.
For more information about the DF-3005 Dry Film Negative Photo Resist or to learn how Engineered Materials Systems can define, develop and create an engineered material solution that is right for your company, visit www.emsadhesives.com.
About Engineered Material Systems
Engineered Materials Systems, Inc. (EMS) technology focus is on electronic materials for semiconductor, circuit assembly, photovoltaic, printer head, camera module, disk drive and photonics assembly product lines. The company creates continual improvements that will guide its customers into the future. For more information, visit www.emsadhesives.com.
Share
Print
Suggested Items
10/01/2020 | Real Time with...SMTAI
Andy Shaughnessy recently spoke with Dr. Bill Cardoso, CEO of Creative Electron, a provider of advanced X-ray inspection systems. Bill discusses some of the new technologies the company will demonstrate in their virtual booth at SMTAI, including a next-generation X-ray parts counter and a new software platform that offers better automation than ever. He also explains the company's plan to migrate from automation to autonomous systems by using AI to help remove humans from the process.
05/15/2020 | Barry Matties, I-Connect007
On May 7, Barry Matties and Tom Forsythe, executive vice president at KYZEN, discussed the effects of COVID-19. During the conversation, Forsythe addressed KYZEN's strategy to keep the staff and employees healthy as the foremost concern. He also detailed recent changes in interacting with customers and his take on what will be the new long-term changes in how the company does business versus short-term accommodations.
11/25/2019 | I-Connect007 Editorial Team
During productronica 2019, the I-Connect007 Editorial Team met with some of the industry's top executives, managers, and engineers. In this video interview, Editor Nolan Johnson and Harald Eppinger, managing director at Koh Young Europe, discuss the company's milestone of 16,000 installed systems, the Zenith Alpha, and market trends in AOI systems.