Reading time ( words)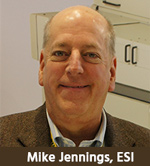 I sat down at CPCA 2015 with ESI's Mike Jennings, who explained the company's newest addition: Gemstone, an ESI-designed and manufactured laser system, with 10,000 guaranteed hours, which is poised to change the rules in flex and other printed circuit processing. Jennings also discusses ESI's new relationship with WKK, and an increased presence in China.
Barry Matties: Mike, start by telling us the news about the new Gemstone laser system.
Mike Jennings: We've added a new member to our 5335 family of laser processing systems, and it's called Gemstone. We're starting to get away from numbers and instead use names for our systems. We had a meeting with a customer in Germany that has a laser drill that we manufactured in 1996, which is still in production today, almost 20 years later. The durability of that lends itself to a family of products we're going to use in our business unit going forward: Cornerstone, Gemstone, and Keystone.
Matties: Regarding Gemstone, is it mainly tuned for the China market and the flex market?
Jennings: It's tuned for all markets. Because of the proprietary ESI-designed and manufactured laser, it changes the rules in flex circuit processing and in other PCB processing, for three reasons: the repetition frequency is three to four times faster; the efficiency of the pulse is so much higher; and we're using a squared temporal pulse as opposed to a Gaussian temporal pulse.​
Matties: Can you explain that?
Jennings: Gaussian can be used to describe both the spatial pulse, which is the form in three dimension that the pulse takes in space; but there's also a temporal side, and the temporal side is the shape of the pulse as a function of power and time, with power being in Y and time being in X. Traditionally, the industry has used the word Gaussian pulse as an all-inclusive of both functions, because that's how it has been.
For the first time, we're taking a Gaussian spatial pulse in three dimensions, and we're using a squared temporal pulse. Rather than taking half of the pulse to rise to full power, and half to drop from full power, we rise to full power in less than one nanosecond, maintain full power for almost the full pulse width, and then fall in less than one nanosecond. Above the ablation threshold, which is really what does the work on a laser, you find that we have much higher time and higher energy above the ablation threshold, combined with faster frequency, resulting in much better throughput—between 10–15%, if not more.
Matties: Aside from the throughput, what's the advantage of your laser over mechanical? Why would someone go this route?
Share
Print
Suggested Items
09/06/2019 | Dave Lackey, American Standard Circuits
Coverlayers are polymer materials used to cover and protect the copper traces of the flex circuit product. There are a number of different options available for protecting the circuits, and they serve different design requirements in terms of cost, performance, and flexural endurance optimization. When specifying the choice, it is critical to call out not just the type of coverlayer material but also the thickness requirement. This can be very important in certain types of constructions, especially when a flex circuit will experience dynamic flexing during use.
05/20/2019 | Nolan Johnson, I-Connect007
Tony Senese, manager for the business development group at Panasonic EMBD, gives Nolan Johnson an overview of materials and components as well as changing business models and methods to make materials succeed and how to stay profitable.
07/11/2018 | Bob Burns, PRINTED CIRCUITS
One question that I hear fairly often, particularly after an initial quotation, is "Why is rigid-flex so expensive?" In this article, I'll share with designers the cost drivers in rigid-flex relative to standard rigid boards and flex circuits with stiffeners. A typical rigid-flex PWB will cost about seven times the cost of the same design on a hard board, and two to three times an equivalent flex circuit with stiffeners.