Reading time ( words)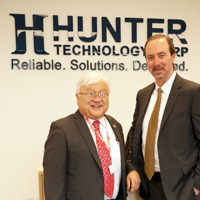 Recently, I was invited to cover Congressman Mike Honda's visit to Hunter Technology Corp, in Santa Clara, CA, which was arranged through the IPC's "Meet the Policymakers" program. The Congressman spent several hours touring the facility, meeting the employees of Hunter Technology, and answering their questions.
After the tour, I sat down with Congressman Honda, who represents District 17 in the Silicon Valley, and talked with him about American manufacturing, infrastructure, education and some of the current thinking in America.
I also invited IPC Vice President of Governmental Relations, John Hasselmann, and Joe O'Neil, president of Hunter Technology, to share a few thoughts about the program.
John Hasselmann, Vice President of Government Relations, IPC[1]:
"IPC places a high priority on government relations because it is directly related to helping its members thrive in a global marketplace. IPC advocates for policy initiatives that promote innovation and advanced manufacturing and provide broad-based economic growth and competitiveness.
"One of IPC's advocacy strategies is to cultivate relationships between IPC members and their elected officials. IPC does this through its "Meet the Policymakers" program, in which IPC government relations staff arranges opportunities for IPC members to host elected officials at company locations. This program provides the opportunity for elected officials to hear how the policies they are considering will help or harm businesses and their employees in their states and districts. In 2014, IPC coordinated the visits of 12 members of Congress to IPC member companies all across the country.
Share
Print
Suggested Items
05/15/2020 | Barry Matties, I-Connect007
On May 7, Barry Matties and Tom Forsythe, executive vice president at KYZEN, discussed the effects of COVID-19. During the conversation, Forsythe addressed KYZEN's strategy to keep the staff and employees healthy as the foremost concern. He also detailed recent changes in interacting with customers and his take on what will be the new long-term changes in how the company does business versus short-term accommodations.
04/22/2020 | I-Connect007
With standards committees set to release the first of four new test standards, industry experts discussed the process ionic contamination test (PICT) standard, which was recently approved by the IEC for publication. Roundtable participants included Teresa Rowe, senior director of assembly and standards technology at IPC, Graham Naisbitt, chairman and CEO of Gen3, Jason Keeping, corporate process development at Celestica, and Doug Pauls, principal materials and process engineer at Collins Aerospace.
04/03/2020 | Real Time with...IPC
Phil Kinner, global business/technical director of Electrolube's coatings division, tells Pete Starkey about the positive impact of the "Coatings Uncoated!" webinar series and comments on how the company has responded to the changes in the focus of the automotive industry.