Reading time ( words)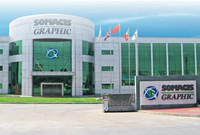 I was recently invited for another tour of Dongguan Somacis Graphic PCB Co. Ltd (DSG) in Dongguan, China. The last time I was there, COO Mauro Dallora gave me a tour of their facility. I was very impressed then. Now, nearly four years later, Mauro led the tour again, and I was even more impressed.
It is very clear that they have continued to invest in new equipment, with a keen focus on automation. In the last year alone, DSG invested more than USD$10 million in equipment. Mauro explained that with the increasing labor rates and the demand for higher-quality products, the key to long-term success in China is automation and tight process control. They have plans to invest about the same amount in 2015.
DSG has also increased its annual revenue by USD$20M since my last visit. To do so, they have only hired about 70 additional employees. Mauro said that the company has plans to double its revenue without hiring additional people. That would mean that they would be doing more than $100M with a team of approximately 500 people, or more than $200,000 per employee. That's a strong ratio.
But DSG's strategy does not rely on manufacturing automation alone. They have also focused on efficiencies and cost savings in all aspects of their business. For example, with their green initiative, all the lighting in the facility has been converted to low-cost lighting solutions.
DSG is becoming a paperless factory, and this speeds up the information transfer and reduces cost. The waste treatment area recycles 65% of the company's wastewater. And when you tour DSG, you will see one of the cleanest PCB manufacturing facilities in the world.
Mauro will tell you that good housekeeping increases the quality of the products. With all of the above, coupled with the drive from Mauro and the leadership team, DSG should remain highly competitive.
The following video interview will give you some more insight into the DSG story:
Share
Print
Suggested Items
04/13/2020 | Barry Matties, I-Connect007
On April 9, Barry Matties spoke with Travis Kelly, Isola president and CEO. Travis gave an update on Isola's responses to the COVID-19 challenges in materials manufacturing. Travis pointed out that Isola's products fill a critical need in the switch to medical equipment manufacturing for ventilators and related products. He also spoke to the three keys to maintaining continuity of supply.
03/05/2020 | I-Connect007 Editorial Team
"As a salesman, my job is to make sure I stay on the cutting edge of technology," said Scott Pohlmann of Milwaukee Electronics. "When our customers ask for certain features that they need on their equipment or performance, I need to know what the state-of-the-art equipment, profiles, and procedures are out there.
02/12/2020 | Real Time with...IPC
In this Real Time with... IPC interview, technology editor Pete Starkey speaks with Jason Posey, director of sales and service with Gardien. They discuss Gardien's range of flying probe testing and the introduction of AVI into the North American market.