Reading time ( words)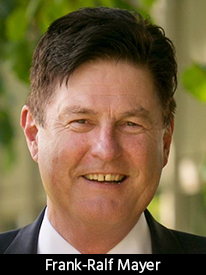 Taiyo America, Inc. is pleased to announce Mr. Frank-Ralf Mayer as European sales manager, effective March 1, 2020.
Mr. Mayer has held a number of business development and key account management positions in leading international technology, electronic and outsourcing (EMS) companies with a focus on medical, pharma, defense and aerospace, rail, energy and environment, and security and communication, as well as in additive technologies.
After flying activities in the German Army, Mr. Mayer studied automotive engineering, light construction and business administration.
In his entrepreneurial phase he developed ground-breaking concepts and solutions in the renewable energy field.
Mr. Mayer also holds memberships in various industry-specific associations and chambers of commerce.
"We are excited to add Frank to our team. He brings a lot of new technology experience to Taiyo America," says Taiyo America's Manager and Director of Sales and Marketing, John Fix.
"I look forward to the challenge to make Taiyo #1 in Europe," stated Mr. Mayer.
Mr Fix adds, "Our customer base will enjoy getting to know Frank and having a direct link to Taiyo. As the solder mask world evolves, it's important to have the immediate feedback from our customer base in Europe."
Please welcome Frank-Ralf Mayer to the Taiyo team.
About Taiyo America, Inc.
Established 30 years ago TAIYO AMERICA, INC. is a subsidiary of TAIYO HOLDINGS CO., LTD., the world's leading manufacturer of specialty inks and solder masks for printed circuit boards. Taiyo offers conductive inks and thermal management products for manufacturing printed electronics, lighting & displays, automotive, aerospace and other applications. For more information, visit www.taiyo-america.com.
Share
Print
Suggested Items
04/22/2020 | Pete Starkey, I-Connect007
Against a background of COVID-19 uncertainty and unprecedented challenges, but recognizing the vital importance of continuing to educate engineers and share the knowledge and skills required to manufacture boards and assemblies of the highest yields and reliability, the IPC Europe team hosted a technical webinar for the European electronics industry, featuring the expertise of two of I-Connect007's regular columnists: Mike Carano and Jan Pedersen. Pete Starkey provides an overview.
03/16/2020 | Patty Goldman, I-Connect007
Patty Goldman speaks with Dr. Bhanu Sood of NASA, Dieter Bergman IPC Fellowship Award recipient, about his extensive involvement with IPC on many committees developing standards to his work teaching professional development courses and mentoring young engineers.
03/12/2020 | Happy Holden, I-Connect007
Happy Holden traveled to San Diego for IPC APEX EXPO 2020. He was happy to get out of Grand Rapids, where the temperature had dropped to 28 degrees. In this article, he describes some of the highlights of the show, from beginning to end.