Reading time ( words)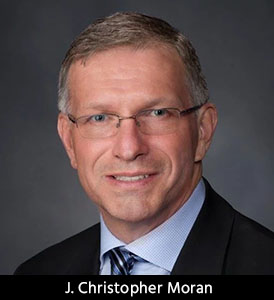 Nano Dimension Ltd., a leading Additively Manufactured Electronics (AME) provider, announced recently the appointment of J. Christopher Moran as a member of the company's board of directors, effective immediately.
J. Christopher Moran (Chris) is a Vice-President of Lockheed Martin Corporation and the Executive Director and General Manager of Lockheed Martin Ventures, the venture capital investment arm of Lockheed Martin. He is responsible for leading the Corporation's investments in small technology companies which support Lockheed Martin's strategic business objectives.
Prior to joining Lockheed Martin, Mr. Moran served in a variety of increasingly responsible positions at Applied Materials, Inc., Santa Clara, CA. Most recently, he was the head of the Business Systems and Analytics group in the Applied Global Services Organization. Mr. Moran was with Applied for over 32 years, including as the head of Corporate Strategy and the General Manager of Applied Ventures LLC, the strategic investing arm of Applied Materials.
Mr. Moran is a graduate of the Massachusetts Institute of Technology where he obtained both his Bachelor and Master degrees in Mechanical Engineering.
"North America's Electronics and Defense industries are quickly becoming a foundation of our growth. Over the past several months these industries have provided tremendous input shaping our product roadmap and future capabilities. Mr. Moran's decades of experience in the electronics industry, as well as his deep visibility into the cutting edge of the defense industry will provide a guiding hand to Nano Dimension's strategy. We are honored by Mr. Moran's decision to join our Board," said Mr. Ofir Baharav, Nano Dimension's Chairman of the Board of Directors.
About Nano Dimension
Nano Dimension (Nasdaq, TASE: NNDM) is a provider of intelligent machines for the fabrication of Additively Manufactured Electronics (AME). High fidelity active electronic and electromechanical subassemblies are integral enablers of autonomous intelligent drones, cars, satellites, smartphones, and in vivo medical devices. They necessitate iterative development, IP safety, fast time-to-market and device performance gains, thereby mandating AME for in-house, rapid prototyping and production. Nano Dimension machines serve cross-industry needs by depositing proprietary consumable conductive and dielectric materials simultaneously, while concurrently integrating in-situ capacitors, antennas, coils, transformers and electromechanical components, to function at unprecedented performance. Nano Dimension bridges the gap between PCB and semiconductor integrated circuits. A revolution at the click of a button: From CAD to a functional high-performance AME device in hours, solely at the cost of the consumable materials.
For more information, please visit www.nano-di.com.
Share
Print
Suggested Items
06/01/2020 | Nolan Johnson, PCB007
On May 28, Joe O'Neil, CEO of Green Circuits, updated Nolan Johnson on how the company continues to operate during the COVID-19 restrictions. O'Neil reflects on the rapid chain of events this past March when lockdowns were instituted in the San Francisco Bay area. After a brief but rapid shutdown, Green Circuits was back up and in production.
05/28/2020 | Dan Feinberg, I-Connect007
Recently, Dan Feinberg was invited to attend a detailed and broadly informative webinar by nScrypt titled "The Strength of 3D-Printed Electronics," which covered the status and advances in the use of 3D printing for electronic device design and manufacture. nScrypt is an Orlando-based company founded in 2002 that focuses on 3D printing. Here's what Dan learned from each of the speakers.
05/19/2020 | I-Connect007 Research Team
Parents often share nuggets of wisdom with their children in hopes that they won't repeat past mistakes. But what do our electronics industry leaders want to share about lessons learned during the COVID-19 crisis?