Reading time ( words)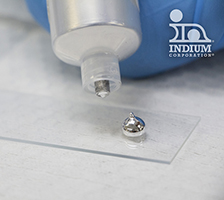 Indium Corporation will feature its high-performance liquid metal thermal interface materials (TIMs) at the 36th Annual Semiconductor Thermal Measurement, Modeling and Management Symposium (SEMI-THERM), March 16-20, in San Jose, Calif., USA.
Indium Corporation offers a number of innovative high-performance metal TIM solutions. With its portfolio of alloys that are liquid at or near room temperature, Indium Corporation's liquid metal TIMS are designed to offer superior thermal conductivity for both TIM1 and TIM2 applications. Liquid metal TIMs offer:
High thermal conductivity, enhancing end-product longevity and reliability
Low interfacial resistance against most surfaces, ensuring they dissipate heat quickly
Extraordinary wetting ability to both metallic and non-metallic surfaces
Liquid metal TIMs are available in a variety of alloys, including InGa and InGaSn.
For more information about Indium Corporation's line of TIM products, visit http://www.indium.com/TIMs.
Indium Corporation is a premier materials manufacturer and supplier to the global electronics, semiconductor, thin-film, and thermal management markets. Products include solders and fluxes; brazes; thermal interface materials; sputtering targets; indium, gallium, germanium, and tin metals and inorganic compounds; and NanoFoil®. Founded in 1934, the company has global technical support and factories located in China, India, Malaysia, Singapore, South Korea, the United Kingdom, and the USA.
For more information about Indium Corporation, visit www.indium.com or email abrown@indium.com. You can also follow our experts, From One Engineer To Another® (#FOETA), at www.facebook.com/indium or @IndiumCorp.
Share
Print
Suggested Items
05/22/2020 | Nolan Johnson, I-Connect007
On May 20, Nolan Johnson spoke with Ross Berntson, Indium Corporation's president and COO, about the company's response to the COVID-19 outbreak. Berntson details the company's work with a consortium of manufacturing businesses in central New York state, developing a manufacturing pledge to keep people safe and keep factories running. Indium Corporation has been one of the frontrunners in formalizing such procedures and in sharing lessons learned among all the participating companies.
05/06/2020 | Nolan Johnson, I-Connect007
Koh Young's Ray Welch and Brent Fischthal detail how engineers can work with SPI tools to verify how small they can go in component size with their solder paste application, and how the company's SPI equipment is helping not only to verify but also to help drive the development collaboration between solder paste and stencil printer manufacturers, and inspection tools and software.
05/05/2020 | Donna Vareha-Walsh, Indium
Indium is a critical metal for the indium-tin oxide (ITO) market and other coating applications. Donna Vareha Walsh—director of sales and global supply chain and trade compliance at Indium Corporation—describes the plentiful global supply of indium and its recycling loop, examines indium's history of price volatility and the market reactions from the recent Fanya Metal Exchange auction, and provides an overview of indium supply and demand drivers, as well as the impact of recycling efforts.