Reading time ( words)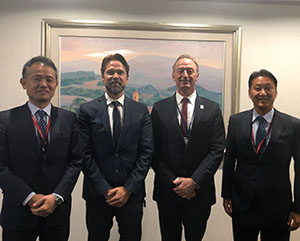 Schweizer Electronic AG and Nagase & Co., Ltd. are announcing the commencement of a sales distribution agreement for Japan. Under the agreement, Nagase is entitled to distribute SCHWEIZER's high-tech printed circuit boards and embedding solutions in the territory. SCHWEIZER, a player with an unrivaled technological portfolio and the highest quality standards, is now entering the Japanese electronics market.
"We are delighted to expand our sales network now also to Japan. With Nagase we found a very well established partner of the local electronics industry. With the radical changes of the automotive and other industries ahead of us it supports our strategy to address customers in the huge Japanese market with our leading edge power and sensor PCB solutions. We are convinced that Nagase will be able to significantly contribute to reaching our goal of annual revenues of 400 million Euros by 2025." said Dr Rolf Merte, CEO from Schweizer Electronic. "Alongside this agreement also our long-term partner Meiko Electronics Co., Ltd. plans to offer 48V p² Pack (Power MOSFET Embedding) solutions produced by SCHWEIZER to its Japanese customers.
Koichi Kawahito, Manager of the Advanced Mobility Division from Nagase further commented: "We are honored to introduce SCHWEIZER's cutting edge PCB solutions to our customers. I am convinced that SCHWEIZER's solutions are able to bring an innovative break-through for all players who seek new solutions for the Electrification of the Powertrain, Autonomous Driving and Connected Cars in Automotive and in addition also for Aerospace, Avionics and various mobility applications."
The Germany-based PCB manufacturer is currently building a highly automated factory in Jintan (Jiangsu Province), PR China, for high-tech PCBs and Embedded PCB technologies like p² Pack®. Mass production will launch in 2020. The significant capacity expansion will allow SCHWEIZER to serve more customers world-wide with its advanced solutions.
Share
Print
Suggested Items
06/01/2020 | Nolan Johnson, PCB007
On May 28, Joe O'Neil, CEO of Green Circuits, updated Nolan Johnson on how the company continues to operate during the COVID-19 restrictions. O'Neil reflects on the rapid chain of events this past March when lockdowns were instituted in the San Francisco Bay area. After a brief but rapid shutdown, Green Circuits was back up and in production.
05/28/2020 | Dan Feinberg, I-Connect007
Recently, Dan Feinberg was invited to attend a detailed and broadly informative webinar by nScrypt titled "The Strength of 3D-Printed Electronics," which covered the status and advances in the use of 3D printing for electronic device design and manufacture. nScrypt is an Orlando-based company founded in 2002 that focuses on 3D printing. Here's what Dan learned from each of the speakers.
05/19/2020 | I-Connect007 Research Team
Parents often share nuggets of wisdom with their children in hopes that they won't repeat past mistakes. But what do our electronics industry leaders want to share about lessons learned during the COVID-19 crisis?