Reading time ( words)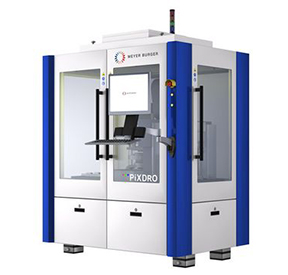 Technica USA has announced that they had reached a Master Distribution Agreement with Meyer Burger to promote and support Meyer Burger's inkjet soldermask technology based on "PiXDRO JETx" systems.
Meyer Burger is a leading global technology company specializing in innovative systems and processes with its competencies and technologies in the photovoltaics, semiconductor, optoelectronic and other high-tech industries like the printed circuit board (PCB) industry. The company has successfully developed the inkjet soldermask technology over the last couple of years.
Frank Medina, President of Technica USA stated, "The PiXDRO JETx rounds out the product offering we have to assist our customers in the area of soldermask application and imaging. Meyer Burger has been very active in developing and perfecting this technology for soldermask for quite some time. I am familiar with their success in the solar cell manufacturing market based on our own involvement in this market. For this reason, we believe they will be a major supplier in the PCB industry as well."
Ernst Gockel, General Manager of Meyer Burger Netherlands commented, "We are happy to have partnered with an experienced distributor like Technica. They have vast knowledge of the PCB process and are positioned well to provide the proper sales and service support for our product line in this market."
Medina added, "Both companies are excited about the opportunity to work together and expand the Meyer Burger footprint in the North American market".
Technica will be exhibiting a PiXDRO JETx system at its booth during IPC 2020 in Hall D Booth # 4423.
About Technica USA
Technica, USA provides the highest quality equipment and process materials, manufactured worldwide, for the printed circuit board fabrication and SMT assembly markets. For more information on Technica, USA, please contact Jason Perry at 1-408-240-5950 or visit our web site at www.technica.com
Share
Print
Suggested Items
05/14/2020 | Barry Matties, I-Connect007
On May 13, Dr. John Mitchell, IPC president and CEO, spoke with Barry Matties and Nolan Johnson in another installment in our series of industry updates. In this interview, Mitchell discussed the challenges of leadership in crisis situations.
04/29/2020 | Dan Beaulieu, D.B. Management Group
Electronics manufacturers continue to step up to the plate during these uncertain times. In this interview, Dan Beaulieu speaks with Chris Kalmus, owner of Aurora Circuits in Aurora, Illinois, who announced on April 24 that his company would be offering PCBs for ventilators free of charge.
04/28/2020 | I-Connect007 Research Team
I-Connect007 continues to monitor the current worldwide economic situation by seeking input from our market leaders. Here's what we discovered: If you're feeling the pressure, you're not alone. In a recent survey, we asked about your primary concerns for the future of our industry. The number one concern (26%) indicated a belief that sales will be affected negatively in the coming months.