Reading time ( words)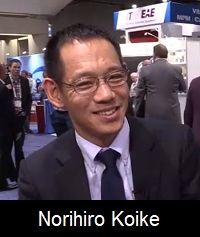 Steve Williams and Saki CEO Norihiro Koike discuss Saki's AOI equipment and complete solution for electronic manufacturers, the industry-leading accuracy of their 3D equipment, and their recent Panasonic IoT certification to provide process data back to the pick-and-place equipment.
Koike also talks about how they enable complete automation for their customers.
To watch the interview, click here.
Share
Print
Suggested Items
04/23/2020 | Edy Yu, I-Connect007
The PCB007 China team paid a visit to the ASKEY plant in Wujiang, Jiangsu, to learn more about their QML process. In this interview with Qixian Zhang, vice GM of ASKEY's Electronics Product Quality Assurance Department, he discusses what QML means to ASKEY and the electronics industry as a whole.
04/22/2020 | I-Connect007
With standards committees set to release the first of four new test standards, industry experts discussed the process ionic contamination test (PICT) standard, which was recently approved by the IEC for publication. Roundtable participants included Teresa Rowe, senior director of assembly and standards technology at IPC, Graham Naisbitt, chairman and CEO of Gen3, Jason Keeping, corporate process development at Celestica, and Doug Pauls, principal materials and process engineer at Collins Aerospace.
03/25/2020 | Brent Fischthal, Koh Young America
When we look at the optical inspection market growth trajectory, we can see how process challenges helped create innovations. For example, solder paste inspection (SPI) has undergone a shift from 2D to 3D because the 2D inspection technologies manufacturers traditionally used to collect solder deposit images could not solve shadowing problems. Thus, companies developed 3D SPI to capture the printed solder paste height to accurately measure the total volume of paste printed. Several years later, we see the same need for surface-mounted component inspection with AOI systems.