Reading time ( words)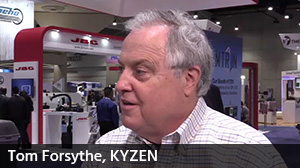 In an interview with I-Connect007 Technical Editor Pete Starkey, KYZEN Executive VP Thomas M. Forsythe introduces the latest member of the Aquanox family of aqueous cleaners and comments on issues of compatibility, rinsability, and consistency of operation.
To watch the interview, click here.
Share
Print
Suggested Items
04/15/2020 | Happy Holden, I-Connect007
When Bob Neves dropped by the I-Connect007 booth at IPC APEX EXPO 2020 this year, Happy Holden took the opportunity to record the conversation. Bob had some startling and exciting updates on the testing of microvias and through-hole technology.
03/10/2020 | I-Connect007 Editorial Team
"Overall, it has been a successful show for us," said Gerry Padnos. "We have mainly seen serious shoppers, not just window shoppers. We have done a lot of good work here, and we have a lot of interest in our products."
03/05/2020 | Barry Matties, I-Connect007
Through the STEM Student Outreach Program, IPC invites high school students to visit IPC APEX EXPO for a day. Last year, they had about 100 participating students, and this year, it doubled. The program is designed to introduce students to our industry at a younger age. During one event planned for them, the students had a chance to participate in a hands-on soldering track, creating wearable buttons to take home with them.