Reading time ( words)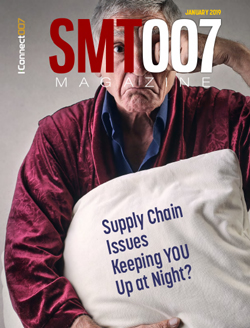 Component supplies, prices, and lead times are in a great deal of turmoil. And there are a LOT of moving parts to this set of circumstances, ranging from a sustained increase in demand for parts, to pricing pressures on manufacturers and premature parts obsolescence. All of these factors wreak havoc on electronics manufacturing.
In this month's issue of SMT007 Magazine, we explore the drivers and the coping mechanisms from all points of the supply chain.
Read the January 2019 issue of SMT007 Magazine, now on the virtual newsstand, and available for delivery in your e-mailbox by subscribing here.
Be sure to download the PDF version for future reference.
Share
Print
Suggested Items
05/15/2020 | Barry Matties, I-Connect007
On May 7, Barry Matties and Tom Forsythe, executive vice president at KYZEN, discussed the effects of COVID-19. During the conversation, Forsythe addressed KYZEN's strategy to keep the staff and employees healthy as the foremost concern. He also detailed recent changes in interacting with customers and his take on what will be the new long-term changes in how the company does business versus short-term accommodations.
05/05/2020 | Donna Vareha-Walsh, Indium
Indium is a critical metal for the indium-tin oxide (ITO) market and other coating applications. Donna Vareha Walsh—director of sales and global supply chain and trade compliance at Indium Corporation—describes the plentiful global supply of indium and its recycling loop, examines indium's history of price volatility and the market reactions from the recent Fanya Metal Exchange auction, and provides an overview of indium supply and demand drivers, as well as the impact of recycling efforts.
11/20/2019 | Chris Mitchell, IPC Vice President of Global Government Relations
From where I sit, representing the interests of electronics manufacturers and related companies around the world, I regret to say that the future of our industry—while bright overall—is fraught with uncertainties, from trade policy disputes to government leadership turnovers and economic and social megatrends. IPC is working with all governments and parties to overcome these uncertainties, but there is a lot to tackle.