Reading time ( words)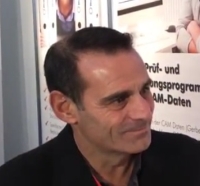 DownStream Technologies founder Rick Almeida speaks with Editor Pete Starkey about building the interface between the PCB designers and fabricators. He gives details on their design software and where most of the design community resides.
Watch the interview below:
Share
Print
Suggested Items
07/02/2020 | I-Connect007 Editorial Team
We asked for you to send in your questions for Happy Holden, and you took us up on it! The questions you've posed run the gamut, covering technology, the worldwide fab market, and everything in between. Enjoy.
06/24/2020 | I-Connect007 Editorial Team
The following is an excerpt from The Printed Circuit Designer's Guide to... Signal Integrity by Example, written by Fadi Deek of Mentor, a Siemens Business. Deek explores how to reach effective design solutions and make strong engineering tradeoffs through analysis techniques, best design principles, and software tools to achieve accurate simulations and measurements.
06/11/2020 | Rick Hartley, RHartley Enterprises
In the June 2020 issue of Design007 Magazine, the I-Connect007 editorial team interviewed design instructors Rick Hartley and Dan Beeker regarding their belief that designers should not trust app notes until they've been proven to be accurate. After the issue was published this week, Rick emailed us with a few more points that he wished to contribute to the ongoing app note conversation.